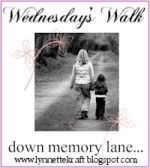 Lynnette Kraft's Wednesday's Walk

For this week's Wednesday's Walk Down Memory Lane, I would like to share with everyone my past Sunday.

After morning service, we went back home to get a nap in for my son before joining the rest of our church at Spencer Lake, Christian Camp for the annual Summer Picinic Bash. There were volleyball tornaments, frisbee golf tornaments, mini golf, walking trails, beach for swimming equip with an inflatable "rock" climbing wall, a water trampoline, rafts, an enormous launching balloon, padboats, kyacks - you name - it was there!