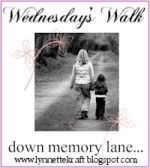 Wednesday's Walk was designed by Lynnette Kraft. She tells her story of how she, along with her family, have found peace and happiness after loss and heartache. Lynnette has accepted God to take over her life and has allowed him to use her as His vessel.

For this Wednesday's Walk, I am taken back to a period on my life when loss lead to life.

My mother's father, Len spent the past few years as a resident of the Samaritan Health Center for senior care. After a couple trying years living at home with Alzheimer's Disease, it became clear that his needed care was beyond the control of my grandmother. And so after much deliberation, my grandma and mother moved him into the local nursing home. It quickly became a new regular routine to visit him several times a week and although the initial transition was difficult, grandpa soon got accustomed to the new living style.


There are plenty of aspects about Grandpa's life that I could talk about (his time with the Navy, his hobbies of drawing, painting, gardening, fishing, his love for football), but I will choose to keep that for another day. After all - the post has a deeper meaning that I would like to share.
As Alzheimer's Disease often works, Grandpa's health was on a steady decline for a few years while in the nursing home, but suddenly began to worsen. He stopped recognizing his family when we visited, he stopped conversing, and was confined to a wheelchair. However, he don't recall him every turning down a cookie if you placed it to his lips :).

Two floors above my grandpa - resided my Great Grandfather Lenor (I know that might be confusing). This was my grandmother's father - so she had her husband and father in the same facility. Great Grandpa Len, in his late 90s was in better health than his son in law who was in his late 70s. Great Grandpa was a tall guy! Mumbling his way through conversations and shuffling his feet to move along in his wheelchair. He always offered his guests
candy orange slices
coated in thick granules of sugar. :) By the way, his wife Great Grandma Evelyn is still living today. She is also in her late 90s. Strong bloodline!

In early February 2008, we lost both my Grandfather and Great Grandfather within 3 days of one another. It was definitely a sad week for our family and it hit my mother especially hard. This man had adopted her and raised her as his own child from the age of three.


Not two weeks after my grandfathers had passed, Paul and I found out we were pregnant. We had conceived shortly after their deaths. I believe I knew deep down we would be having a boy, at least if my grandfather's had anything to do with it :). We were so thrilled to tell our families.


At the same time we saw life enter into heaven, God repeated His amazing cycle and brought forth the life of my son here on earth.