I understand the Lynnette's idea of this post is what happens to your house more so because of mobile children. I, however - have one stationary chap (at least for now), so these are photos of what happens to my house because my attention being directed elsewhere.

My living room has a new design layout! Notice the beautifully arranged centerpiece?? I thought it adds an element of infused color...
Observe the mail that doesn't get read??
My dishes get neglected, *ahem* - Jax's dishes get neglected
My driveway has been transformed into a kiddy playground, that causes Daddy has to park his car on the street due to access denial to the garage!
I used to have a nicely decorated, clean house.... what happened??
-------------------------------------------------------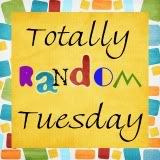 I came across this Tuesday feature and I was reminded of all my cartoons that I used to post during my pregnancy. I figured their had to be one that expressed my life in this exact moment
I was right