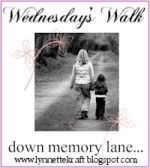 Brought to you always by Lynnette at Dancing Barefoot on Weathered Ground . I invite you to visit her website. If it has been awhile for you, she had her daughter redesign the layout and it looks great! She also has a new button!
I know most of my memories happen to be about my child or my pregnancy; I can't help it. So much has happened to me since I got pregnant that I don't feel like I really began living until then. Anyways, I just wanted to share a song that I heard on the radio this week. It was all over the Country Radio stations last spring (2008). It was song that would play while I made my long trip to Milwaukee for the three days that I worked part time. Leaving my husband back home for those days was really hard on me. I didn't like being away from him, we were newly weds and I was carrying his baby.
During those long drives, there wasn't much to do but listen to the radio and think. Well, I was thinking alot about my unborn child and everything that I didn't know about him. I imagined how be would look, what seeing his face for the first time would feel like. What being NOT pregnant after having been so for many months would feel like. Then, of course bad thoughts would enter my mind. Things like what if there were complications during the delivery, what if we didn't get to take our baby home. Thoughts of the scary unknown that more often than not, would bring me to tears... alone on the freeway, just me and my radio.
But this song always made me smile. Everytime I would hear it, I would put my hand on my belly and whisper to my child. I would tell him that I couldn't wait to hold him in my arms and that mommy would do everything she ever could to protect him. I would tell him how much he is wanted and how precious his is to us. I would thank my Lord for trusting me with such a treasured gift. I want to share the song with all my readers today. I am sure that many of you are aware of the song/lyrics.
It's about the joyous wonder that a children brings with them into the world. It's about seeing the face of God imprinted in your newborn baby. It's about seeing this world with new eyes, perhaps God's eyes and being completely and utterly transformed.
"I Saw God Today" - George Strait
I just walked down the street to the coffee shop
had to take a break I'd been by her side for eighteen hours straight
I saw a flower growing in the middle of the sidewalk
pushing up through the concrete
like it was planted right there for me to see
the flashin' lights, the honkin' hornsall seemed to fade away
in the shadow of that hospital at 5:08
I saw God today



Chorus:I've been to church
I've read the book
I know He's here,
but I don't look
near as often as I should
Yeah, I know I should
His fingerprints are everywhere
I'd just slow down to stop and stare
opened my eyes and man I swear
I saw God today


I saw a couple walking by they were holding hands
Man, she had that glow
yeah I couldn't help but notice she was starting to show
I stood there for a minute takin' in the sky
lost in that sunset
a splash of amber melted in the shades of red



Chorus:I've been to church
I've read the book
I know He's here,
but I don't look
near as often as I should
Yeah, I know I should
His fingerprints are everywhere
I'd just slow down to stop and stare
opened my eyes and man I swear
I saw God today



I got my face pressed up against the nursery glass
She's sleeping like a rock
My name on her wrist wearing tiny pink socks
She's got my nose, she's got her mama's eyes
My brand new baby girl
She's a miracle I saw God today