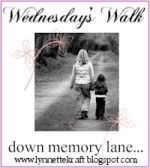 I came across this weekly testimony and it lead me to the creator's blog. Wednesday's Walk was designed by
Lynnette Kraft
. She tells her story of how she, along with her family, have found peace and happiness after loss and heartache. Lynnette has accepted God to take over her life and has allowed him to use her as His vessel. I was inspired reading through her blog and I wanted to participate in her Wednesday's Walk - down memory lane. So here I go:
This memory lane doesn't take me back very far, but will be the most important memory that I keep safe. This is the most personal I have gotten on this blog thus far! I suppose I am referring to my life before God decided to make me a mother. What I am going to talk about, I feel is very common among teenagers and young adults (I know we saw the common thread at our Pre Marital Catholic Retreat). Before I got pregnant, I was without a doubt living my life for myself. When I met Paul and we decided to make a life together - you could say I started to live for him as well. But all in all, my life a self centered universe. I am absolutely ashamed to say it, but I put God on hold until I knew I would being starting a family. I suppose I figured I didn't need God highly present in my life because I didn't have children yet and I didn't have any responsibilities that extended beyond my own well being. I am sad to say - that is exactly what I did.
I guess when I was at that stage in my life where I had a job and was making money, I was healthy, I had a partner to share my life with - I just didn't need anything else. More or less, that may have my view on God, I didn't need anything, so there was nothing to ask Him for. I didn't turn my praises Heavenward to glorify Him when good things happened to me. Certainly, it was I who brought on my own good fortune! Or if not me - than certain this world did! I didn't need help with anything, so I assumed there was no reason to talk to God.... How horrible that sounds to me as I am typing it out.... there was no reason to talk to God. My goodness - How incredible is HE - to be able to forgive my stupid assumptions.
So, God waited patiently while I lived my life for this world. He sat all the while in the back seat (probably shaking his head at me) until I deemed it convenient to ask Him into my life. I know that He has forgiven my ignorant decision and I am thankful that He has allowed me time to recognize my salvation. I am ashamed that I put Christ aside until I thought I needed him -
I suppose that is why it hit like a ton a bricks when that moment came... The realization of what I was choosing to overlook - the realization of what I could have in my life - the shame of waiting to accept Christ was overbearing.
My needs started to come and they came fast when I found out I was pregnant. That is when I started to pray. Lord - please deliver me a healthy baby, please make my pregnancy go smoothly, please allow this baby to develop without complication. I thanked him for my child, and giving us a baby so quickly, every night before falling asleep. I felt the connection between God and I starting to grow, as my baby was growing inside me - the baby that He made possible and entrusted me with - however I still chose not to ask for Him to guide my life. I wanted Him to guide my baby's - sure! I wanted Him to make my delivery safe and successful. I wanted a healthy baby from Him, AND THE BABY WAS!! But still... turning my cheek as He waited for me to ask the question that would save my life.
And then came the time when I delivered this healthy baby boy and my world flip upside down! When my son lifted his head on my chest and looked straight into my face, the entire world dissolved around us. I didn't hear any of the commotion in the room, I didn't notice what the OB was doing, I didn't realize I had forgotten to breathe. This was my son! And the weight of his body on mine had made it all physically and emotionally real. No denying it - this baby was finally in my arms. I was a mother and this was my child - the child that God gave me. He trusts me to raise this child the way He wants - to guide this child down His path and ultimately back into His arms again. It is an overwhelming rush of emotions when you see your baby for the first time. And that feeling of "Ok God - I really need you now!" was way more intense than I anticipated. I don't like that it took that much to happen to me, to realize what my life was missing - but I have lied that guilt onto Him and He has taken it from me. If He can forgive me, I have to also.
With the combination of being a mother of a healthy child, recognizing other mothers who are not and having a scare of when my son fell - I was ready. I was ready to let God take my wheel and stir my life. I was ready to turn myself around and ask Christ to lead me. He is here now and I am grateful. Gone are the days when I put myself first. Gone are the days when only my issue took precedence in my life. My priorities have all been switched around! My relationship with God is number one - without Him, no other relationship would be complete. My marriage and my child(ren), my family - these are my priorities.
I am going to be the best mother / wife that God can make of me. I am thankful He is here in my life and driving my car. And for once... I can ride in the back seat!