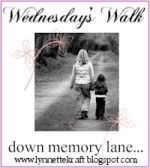 I came across this weekly testimony and it lead me to the creator's blog. Wednesday's Walk was designed by
Lynnette Kraft
. She tells her story of how she, along with her family, have found peace and happiness after loss and heartache. Lynnette has accepted God to take over her life and has allowed him to use her as His vessel. I was inspired reading through her blog , so go grab a cup of coffee and lean back in your chairs because this memory will take me some time to share. Here is my second post for Wednesday's Walk - Down Memory Lane.
I want to reminisce about the days when my 6 month old slept until 7am... which now has been replaced with 5:30am.... "Get REAL!" You really want to listen to me go off on a rant about that? I didn't think so :) But I will say just one thing - I never thought I would ever perceive 7am as "sleeping in"! Ok - now on to my real walk...
I suppose you could say this road leads me back to my childhood, previous to 1994 (that may not seem that long ago for some of you, but to me - it seems a world away!) For this memory, I want to focus on someone specific. I want to focus on someone who was dear to our family, someone who left this earth before I was granted time to truly get to know them as an individual. I didn't get to know him as an adult, as a person, or as a follower. To me and for my whole life - he was just grandpa.
I am saddened to say I only have a few memories of they type of grandpa he was because I was only nine when he passed. I, being his oldest granddaughter (and the second oldest grandchild), am even more saddened that my younger cousins have even fewer memories - if any at all. I believe my brother and I are blessed among our cousins because we lived near our grandparents and they were involved in our lives on a regular basis. We made many trips to their house - where as most children do - we would make ourselves scarce from the adults and find something to occupy our time. [ I just continued to write about the kind of things we occupied our time with... but after about three paragraphs of that, I realized the memories of our explorations through my grandparent's house is truly a separate walk altogether. So, I deleted my work and am going to save that for a different Wednesday]. Now I will go on to say that
our visits to my grandparents house usually went well into the late evening (especially if my cousins were in town) and we never had a shortage of things to do. These activities always drew us away from spending much time with the adults and alas (my point through all this talk)... it pulled us away from my grandpa. Of course, we were kids and listening to boring grown up talk and hearing them laughing at jokes I didn't understand, we were better off exploring the house.
I have a few memories of my grandfather that I would like to share as well as a bit of reflection. My grandfather, if he was anything like his sons, was not the tallest guy around. He was rather slender and sported a mustache that prickled our faces when he would kiss us goodbye. He had made a life as a carpenter and shared that talent with the community. His house had many fine pieces of work he handcrafted and a few pieces made their way into my parent's house as well. He wore glasses and buttoned down flannel shirts and the same pair of dirty, ragged work boots no matter where we were. Grandpa hung a rope swing from the tree in their front yard so that the kids would have something to do outside on our visits.
Grandpa would have these belches that were probably pretty unpleasant to most people, but we would just laugh and say "Grandpa - what to you SAY?!?" We knew his response before he would even reply (which
encouraged us to ask where his mann
ers were in the first place.) "Felt good!" would be his response every time! He had this chair at his house
that was always considered "grandpa's chair". Every time
he would leave the room, the grandchildren would fight to sit in it. We did this mainly because upon his return, he would pretend not to see us and sit right on top of us.
I remember being drawn to a
certain book a few years back at the book store. I bought the book because grandpa had read it while we were on vacation in MI in 1992. - Where the Red Fern Grows. I haven't read it - it's in a box in my basement, but I can tell you the reason I have it is because HE read it. I was fascinated with his book collection because he had several books that we were reading in school. My 3rd grade teacher read "The Lion, The Witch and The Wardrobe" to us and she had mentioned that there was an entire series that followed the book. Grandpa had that entire original series on this book shelf! He also had the original set of the "The Lord of the Rings" (complete with "The Hobbit"), which I read in a freshman mythology course. (This of course was way before the recent movies were filmed which made the stories a new sensation). I just remember thinking that my grandpa was pretty cool to have the original, tattered copies of these brilliant adventure tales. Understanding that the books were really a whole lot older than I thought.
I can remember at my grandpa's sister's house - there was this huge maple tree. I would beg him to lift me up into the tree where I could sit. I would be alittle higher than eye level to him. We would have these three way conversations between the two of us, and the tree itself. Grandpa would lean his ear to the tree, make whispering sounds and translate to me what the tree just told him! It was never any talk of real importance, but he was spending time with me. He had created little games like these that became traditions. I am thankful for those traditions because without those - I feel my memory of what grandpa was like would be quite foggy.
This was our Grandfather. I don't remember him being a man of many words - and yet upon his passing, packet of his poetry and thoughts were revealed by one of his sons. I wish I had a copy myself, as I have only seen it once or twice. I do however have one piece that he wrote after experiencing the loss of a grandchild. My younger brother, Adam. He wrote about what it was like to see the physical pain in his family and what he felt - viewing from the sidelines.
I believe that we viewed our Grandfather in a typical way. To me, to my brother, and to my younger cousins - he was old. He was a grandpa and grandpas were old - It wasn't until I was a teenager that I realized something...Just because he was my dad's father, that didn't necessarily make him old. Especially when I realized that he was only 54 when he passed away.
I suppose one thing that our family would recognize as a trait of my grandfather's (although, rambling off my memories in the previous paragraph - amazingly this didn't come to mind) is that he was always smoking a cigarette. After smoking the majority of his life, the habit made its ultimate claim of his life in the wicked form of throat cancer. Tests after tests and procedures and procedures...one procedure he had struck us hard as kids. It was the removal of voice box. As a child, I saw my grandfather "grow" bald and then out of the blue - he had a hole in his neck. I remember that he took my brother and I into the den of the house and he had a flashlight in hand. Instead of hiding his neck or ignoring our curious nature, grandpa wanted us to have a look at this neck so we would still feel comfortable around him.He did not want us be scared and he needed us to understand that this is still our grandfather. So, he held the flashlight up to his neck and my brother and I took a look at the inside of his throat. I asked questions and my grandma answered.. Then, grandpa pulled out his "new voice". It was a handheld vibrating device that was to be placed on his throat when he talked and it would transmit his voice vibrations into words. Understanding here, this was not a computer by any means. It did not simply SPEAK the words. It was more robotic sounding if anything, or at least that's the way I remember it. It was a bit difficult to hear the words he was trying to make and sometimes you couldn't make out the words no matter how slowly he spoke. My brother and I both took our attempts at the device to again, try to feel comfortable with the new adjustments our grandpa was making. I don't remember being scared of the sounds that the device projected, but I suppose my younger cousins were. My father had told me (years later) that grandpa picked up on the nervousness of the children when he would speak... and so he slowly stopped using it over time. Which meant - he slowly stopped talking when we were around.
There were a few bad months where his cancer got worse despite his treatments. He was taken to St. Luke's Hospital in Milwaukee after a serious of tragic events. I remember it being a long drive to Milwaukee those few evenings we made the trip. Of course my brother and I were asking "Are we there yet?". My parents told us to watch the street names as we drove down Wisconsin Ave. Off the freeway we were passing 107th street. St. Luke's was at 27th street. All I did down that long stretch of street light after street light, was watch as each street name sign counted down 100th, 99th, 98th.... 56th, 55th.... 30th, 29th...
One night my parents called a family friend to come to the house while they made one last trip to the hospital. My father sat us down when he got home to tell us that Grandpa had gone to heaven and was now with Adam. I can't say the exact feelings I had when we told the news. I believe my parents had done a good job of preparing the two of us while he was in the hospital. They had said that grandpa probably was not going to wake up.
As the years have gone by, I am now an adult with a family of my own. I am able to relate to my aunts & uncles on the topics of career, parenthood etc. I feel connected to them because I have grown up and now communicate with them as an adult. Aside from age, there isn't much difference between us...
...Until I think about what they have and I don't. They had time with my grandfather. I am jealous when I hear stories about him, things he said, things he did. That generation of our family smile and laugh remembering back to how fun my grandpa was. They all recall the same stories and each give their two cents of how they all happened and everyone enjoys hearing them. I sit there with envy that I didn't know him that way. I didn't know him as a person, a man, or an individual. I wasn't able to sit down with him and have a conversation, to get his view point, to hear what he had to say. I wish I would have been able to because from what I hear, I know I would have enjoyed him too.
Now on the same token - I am sad for my younger cousins who don't even carry with them the few memories that I have. I knew him as a grandpa - someone who fulfilled all those memories listed above. Someone who created those traditions so that I would have something to grasp now that he's been gone.
It will be 15 years this October since we lost my grandfather. We will be celebrating my son's 1st birthday. Man - how time flies by! I have so much to be thankful for and I know that Grandpa is dancing his dance by Jesus' side. If I have learned anything from him - it would be to continue making traditional memories. Those are what he gave me, unknowing at the time - but they have become so important to me.