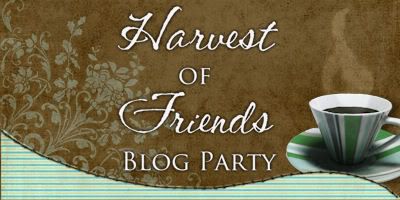 Please Join Lynnette and friends as she hosts another blog party! I just loved the last one and am so excited to participate again! I love these questions - so unique!

1. What is your favorite thing to snack on while you're blogging? Oh goodness. I actually don't eat while I am at the computer. I don't have a laptop, so it's strictly computer use in the office and I don't eat in here :)
2. What is one thing you wouldn't want to live without? Besides the obvious answer of my God and my family, it would have to be music. I love music and what it can do for my mood!
3. Beach, Mountains or Farm? Where would you live if you had a choice? I would have to say the beach. There is just something uncompareable to the smell of the water and the calming sound of crashing waves.
4. What's your least favorite chore/household duty? Vacuuming the stairs! We don't have a very verstile vacuum cleaner, so it makes the task nearly impossible if you don't have 4 arms.
5. Who do people say you remind them of? Appearance wise - Danica Patrick / Personality wise - my mother :)
6. Prefer parties and socializing or staying at home with the fam? socializing on occasion because there are no expectations. But on a daily basis - staying at home with my family. HANDS DOWN
7. What's your all time favorite movie? I don't want enough movie to love them :(
8. Do you sleep in your make up or remove it like a good girl every night? Of, I always remove it! One thing I learned in beauty school is always remove your make up at night and never forget moisturizer. Those two things can save your face aging effects of time!
9. Do you have a hidden talent or a deep desire to learn something that you've never had a chance to learn? What is it? I am finally starting to learn mine! I am currently taking photography classes at the local college!
10. What's one strange thing you're really good at? Following a ovulation chart HA! I got really good at understand it with my firstborn and now that we planning on getting pregnant again, I have my days counted out and marked on the calendar.
11. What first attracted you to your spouse? His consideration. There was an elderly lady at a nearby table and her table was wobbling (the one table leg is longer than the other deal). She was clearly frustrated over the matter. So he proceeded to fold up a cardboard menu and placed it underneath the shorter leg of her table so it no longer wobbled.
12. What is something you love to smell? Brewing Coffee. I hate the taste of coffee and don't drink it. But the morning smell of it is divine!
13. Tell something about you that you know irritates people. I don't like to irritate people. So I try not to do anything that would make them feel that way about me. And if there is something... then I don't know about it.

14. When you have extra money (HA!) what's the first thing you think to do with it? GO on vacation.
15. Are you a silent laugher or a loud laugher? Loud laughter! What makes you laugh the hardest? watching other people laugh and have a good time!
16. Where is your favorite place to shop? Hobby Lobby :) For craft supplies, for home decor, season decorations, you name it!
17. What's one thing you'd do more often if you had more time? Read. I read alot when I was pregnant and have been having a hard time finding the time now that I have a child.
18. Are you a big spender or frugal? I am somewhere in between :)
19. Who is your favorite character of all time (from a movie or book)? (Can't be real) When I was a preteen I started watching General Hospital. I fell in love with the Lucky/Liz relationship. Then in 2000, the character of Lucky was casted to a different actor and He was never the same again. I am now smitten and smiling to up my eye balls as I just found out yesterday that the original actor that played Lucky from 1993-1999 is coming back to the show to reclaim the role that he won a Daytime Emmy for :) Smitten as a kitten!
20. Would you want to be famous? After I see what fame does to a person, their relationships and their lives... I want no part of that! I have a hard time believing that when a real famous person is dying... their first thoughts are "Oh, I'm SO glad I was SO famous"
Thanks for reading everyone! I can't wait to start reading everyone else's party list!