Tuesday, August 4th - MckLinky Blog Hop features
May want to disable my playlist at the bottom of the left sidebar


When you feel like giving up,
think of this amazing woman
did a wonderful sermon a few weeks back on
James 1:1-8
Give God the Luxury of Time

The process that God has for you and is doing in your life today, is what will prepare you for the promises that He has for you.
I invite you to listen to the podcast sermon.
----------------------------------------------------------------------------
And now - the light hearted Encourgement
It truly is the best medicine!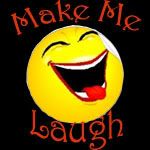 Please join Make Me Laugh
(grab my button from the lefthand sidebar)-
where everyone in BlogLand is welcome to come and share in the laughter.
Share your funny story, joke, article, photo, film clip etc.
It can be personal or public... just please keep it clean!
Who doesn't enjoy a good laugh?
and
Who says God doesn't have a sense of humor??
I know it's wrong to laugh when it's at someone else's expense,
but I am sure this Mom is laughing about it today!
Make Me Laugh - BlogLanders!