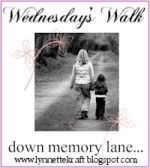 Join us for this week's Wednesday's Walk Down Memory Lane, hosted by Lynnette.

Coming up on our 2nd Anniversary in September got me thinking about our honeymoon the other day. It will be quite a while until Paul and I make it to the ocean again soon, so I decided to share some photos of our trip to Huatulco, Mexico in September 2007.
Unfortunately, we added missing our connection in Mexico City and had to spend the first night of our honeymoon at a hotel near the airport to catch the next flight the following morning. I won't get into details about our horrific experience at the Mexico City airport, all I will say is that we will avoid that place like the plague from now on!!
The Gala Resort in Tangolunda Bay. There were only 5 resorts on the bay which was 1 of 10 in the Bahias de Huatulco. It was a remote area with the smallest international airport in Mexico.
This (along with the previous photo) was our view from our suite. The suite was huge and gorgeous! The view was amazing!!
Our balcony was complete with our own private jacuzzi. To the left of our balcony, was only the forest! We had 100% privacy.
My husband climbed the rock formation right off the shoreline. I just shake my head at this photo - so primal!
Nature was all around us :)