My heart is breaking tonight for Stacy and Spencer who are celebrated their son's first birthday today without him here.
He Will Carry Me
was one of the first blogs I started to follow shortly after Jackson was born. Isaac had already gone to heaven by then, and I cried as I read the words Stacy would write. I cried for her aching heart, her empty arms, her amazing strength and her unwavering faith that carried her through losing her son.
Tonight I read Stacy's letter to Isaac for his birthday. The tears just poured down my cheeks as I struggled to read the screen. Isaac will never know the hurt and pain that this world brings. But he did experience the loving touch of his mother and father for a short while before Jesus called him home. I know that Stacy finds comfort in having those moments.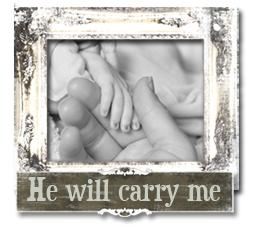 Please pray for Stacy and Spencer tonight. Pray that they are found with peace today as many emotions may fill their hearts. Pray that their memories of their sweet baby boy never fade in color and always stay true and very real. Pray that God allows them to cry on their pillows tonight, but dries them by morning.
As for me, I am going to pray over my son's crib.
My, how very selfish I have been.