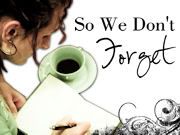 I know that Lynnette's new idea of Wednesday's Walk, is now
So We Don't Forget
, which I totally love. I have not participated in a few weeks because I have been so busy getting my new blog store up and running.
However, I will yet again stray from Lynnette's idea for this week - because I want to share with all of you
God fearing people
- just
how great is His love
. I know you all will rejoice with my family when you read this of post today. Please take a moment, you won't regret it!
Here is a bit of background for you.
This is my husband's side of the family. His Aunt Joni and Uncle Rich have three children that they raised to adulthood and one daughter they named Shawna, who they gave up for adoption 38 years ago. They were only 16 when they had Shawna and we not ready to start their family yet.
Aunt Joni had battle breast cancer for a rough 10 years before passing on in 2006. Joni was the youngest of 4 daughters. The eldest was Anne, who passed away in 2002 of complications due to many factors, including lung cancer. Next is Mary, who has been battling a brain tumor for many years; then Kathy (my mother in law) who went through chemotherapy last year for stage 3 breast cancer. And lastly, Joni. Their mother has also been treated breast cancer. Because of this family's medical history, Aunt Joni and Uncle Rich were desperate to reach their daughter Shawna, if for nothing else than to give her the family facts - so she could be aware of the high cancer possiblity. Of course they were wanting to share in their daughter's life, but felt it would be Shawna's choice. There were several attempts over the years to reach her that all ended in the same results - dead ends, they just couldn't track down their daughter.
Shortly after Joni had passed, Rich tried again. And this time - new doors began to open. They located their daughter, who had been named Angela. Last week Angela, who now lives in Los Angeles, went to Las Vegas with her husband to meet Rich, her sister Chelsy and brother Luke. Angela's other brother, Matt, lives in Madison. Rich is absolutely ecstatic. The email he sent my father in law with the first picture of Angela was simply titled "I am fulfilled." Angela is a perfect blend of Joni and Rich.
taken from an email I received from my father in law
"I know with Joni smiling down, they are a complete family now."
Father in Law -Mike, Mother in Law -Kathy, Aunt Joni and Uncle Rich

Aunt Joni (a few years before she passed)
Angela and her husband Jonny

Cousin Luke, Jonny, Angela and Eve (Luke's wife)

A Blessed Union
So I suppose my thoughts for today are:
Just So We Don't EVER Forget
Just how GREAT is Our God!
"You're Amazing,
You're Amazing You Are,
And We Praise You,
Lord, For What Your Hands Have Done.
You're Amazing,
You're Amazing You Are."
-Newsboys- In The Hands Of God