I invite you to please meet The Cripe Family.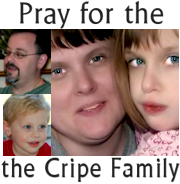 This darling family is in need of your prayers. Danielle, mother of two has been diagnosed with stage IV liver cancer two years ago. The family has been informed recently that Danielle's illness will soon claim her life here on earth.
I just finished reading Lynnette Kraft's post introducing me to the Cripe Family. Please visit her blog as well for all the information you need to specialize your prayer for Danielle and her family.