INTRODUCING....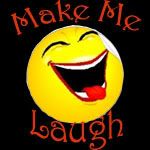 I have been wanting to join the world of memes and create my own weekly feature in hopes to make more connections with all you wonderful BlogLand friends. I plan on using MckLinky to link us all together. I feel I have come up with a pretty idea that many would like to participate in. I am calling it...
Make Me Laugh.

My plan is for everyone to select something that they feel is funny and would like to share with others.
Personal or public - doesn't matter.
Did your co workers tell you a funny joke this week?... Tell us!
Did you stumble across something humorous online? ...Link us!
Did your child ask one those embarassing questions or repeat something they shouldn't have in public? ...Share it!
Did you capture a moment on film?... Show us!
Whether it's a story, a photograph, a cartoon, a video, a joke, (you get the idea).
We want to see it!
Make Me Laugh!
So far, my button is pretty generic. I will be experimenting with other graphics as time goes on. I hope you will all participate and share in this fun weekly feature with your other BlogLand friends!
At this point I haven't decided on a day of the week. I want to catch a strong amount of traffic and maybe I will tag it along with our BlogHop Tuesdays... we'll see!
Start thinking of what YOU want to share! And check back for our first ever...
Make Me Laugh!
-----------------------------------------------------------
Update on Operation PUJ
(pronouned "pudge")
Day 4
Immediate changes put into action:
Continue breastfeeding 3 times a day and 1 bottle feeding with lunch. Total feedings = 4
Instead of feedings occuring right after naptime, they are now an hour after waking
Analysis:
The Baby Man still expresses little interest in nursing longer than 10 mins at a time.
Attempts to hold off feedings for an hour after nap time have been successful with no signs of a hunger strike.
Some times the Baby Man will drink more after these longer waiting periods, however the majority of the time he appears to be consuming his normal small portions.
Mama's emotions regarding the immediate change of action and their results, are somber.
Hypothesis:
No weight gain will occur with these results
Additional Changes from this Day Forward:

None - continue with present course of action and analyze data at further date


:)